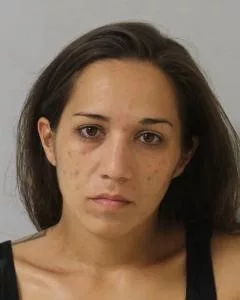 Hawai'i Island police arrested and charged 31-year-old Chelsey Kawehianalani Lewis of Kea'au following a domestic-related incident.
  On September 12, Puna patrol officers responded to a report of an active domestic dispute in the Hawaiian Paradise Park subdivision and determined that Lewis was involved in a verbal argument with a 26-year-old male within a vehicle.
Lewis struck the victim twice with a closed fist to the left side of his face causing injury. The victim then exited the vehicle, upon which time she rapidly accelerated it and clipped him on his left hip.  She then reversed quickly and pinned him against a metal fence.  
  Lewis left the immediate area and was stopped by patrol officers a few hundred feet away. The victim sustained minor injuries and refused medical treatment.   After conferring with the County Prosecutor's Office, Area I Juvenile Aid Section detectives charged Lewis with second-degree assault and abuse of a family household member. Her bail was set at $3,000.
HPD Photo