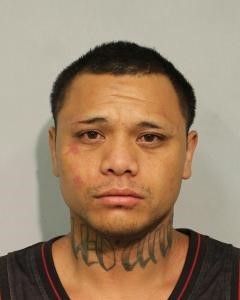 Hawai'i Island police charged 34-year-old Drosstain Pua of Kona with assault and property damage offenses after a recent incident involving four people in Ocean View. In addition, Pua was charged with multiple offenses related to a Kaʻū incident that took place last July and is also a suspect in several ongoing criminal investigations.
On January 18, Ka'ū patrol officers responded to an unknown disturbance in the Hawaiian Ocean View Estates (HOVE) subdivision and determined that minutes earlier a 35-year-old Ocean View woman had observed a suspicious gold colored sedan in the area. When she attempted to contact the driver, later identified as Pua, a verbal confrontation ensued between the two, during which Pua threw an object striking a nearby vehicle, causing minor damages.
When a 54-year-old Ocean View woman passing through the area stopped to intervene, Pua threw an object at her car as well, causing minor damage. Pua then physically assaulted the 54-year-old woman and also unlawfully removed personal items belonging to her. A 56-year-old male acquaintance of the 54-year-old woman tried to intervene and was also physically assaulted by Pua, who struck the man with a metal object. After arriving on scene and learning the nature of the incident, officers attempted to take Pua into custody, however he resisted arrest. A bystander, a 51-year-old Ocean View man, attempted to assist the arresting officers, and subsequently sustained minor injuries allegedly inflicted by Pua.
Police were eventually able to take Pua into custody and he was booked at the Ka'ū police station while detectives from the Area II Criminal Investigation Section continued their investigation. 
After conferring with the County Prosecutors Office, Pua was charged with:
two counts fourth-degree criminal property damage
two counts second-degree assault
one count second-degree robbery
one count third-degree assault
one count third-degree promotion of a dangerous drug
one count resisting arrest
Pua was also charged with offenses stemming from an incident that occurred on July 31, 2022, (Report No. 22-066523), at a residence in HOVE in which a firearm was discharged.  During that incident, a 38-year-old Ocean View man reported that Pua and another man unlawfully entered his residence and threatened the victim and his 70-year-old mother. While in the residence, a firearm was discharged, however, no injuries were reported.  
After conferring with the County Prosecutors Office about the July 2022 incident, Pua who is a convicted felon and thus prohibited from owning or using firearms, was also charged with:
first-degree burglary
first-degree terroristic threatening
first-degree reckless endangering
ownership or possession prohibited
carrying or use of a firearm in the commission of a separate felony
Pua made his first appearance in Kona District Court on Friday, January 20.donovan.kohara@hawaiicounty.gov.
He is also a suspect in several other criminal investigations which will be forwarded to, and reviewed by, the County Prosecutors Office for charging determination at a later date. Anyone who may have further information on any other incidents involving Pua is encouraged to contact Detective Donovan Kohara at (808) 326-4646 ext. 267; or via email at 
HPD Photo