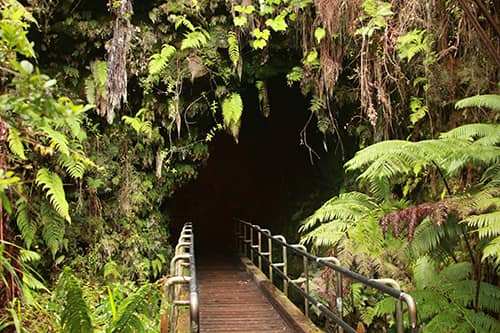 Nāhuku lava tube in Hawaiʻi Volcanoes National Park has reopened following data monitoring and inspection of a fracture near a large overhanging rock slab at the apex of the lava tube.
On July 30, 2022, park management closed the lava tube when data from a crackmeter inside the tube revealed that a fracture near the large rock slab in its ceiling had narrowed by 2.47 mm.
Previous crackmeter movement was less than 1 mm since November 2019. In response, National Park Service Geomorphologist Eric Bilderback recommended closure of the lava tube for monitoring and evaluation.
NPS Photo
The data collected during the 18-day closure demonstrated a return of movement similar to the previous record. This data, combined with expert analysis and a physical inspection, allow Nāhuku to safely reopen. In addition, the daily average velocity, the speed at which the crackmeter is either expanding or contracting, has been below the velocity thresholds established by the National Park Service as normal in Nāhuku since monitoring began in 2019.